A hinge has (only) one degree of freedom (Quote: Wikipedia)
[Hinges and wings – Part 2]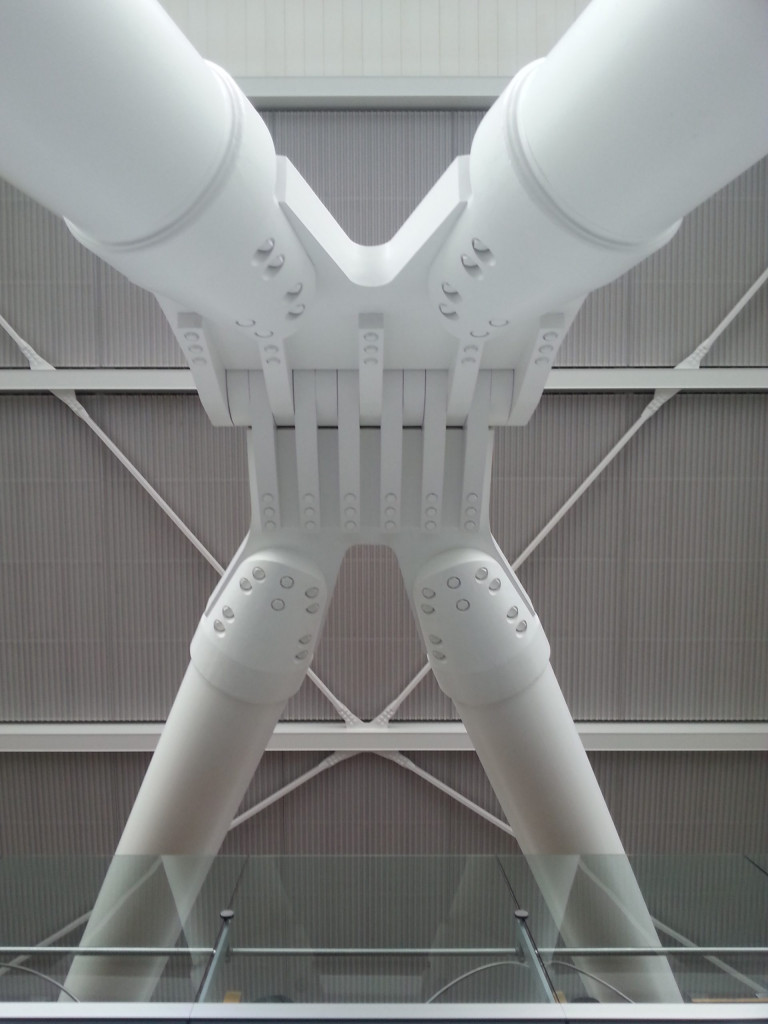 In my entry last month, I wrote about the shifting dynamics of the supposed "centre position" in a multiple relationship.
It is therefore fascinating for me as a bLogger to notice how some ideas on topics concerning our way of life often surprisingly appear at different places at almost the same time.
Meanwhile, perhaps I shouldn't be too surprised either, because some questions push into similar areas when people are trying to find a solution to them – when the time for that has arisen.
So recently, the term "hinge-blindness" started circulating among the ranks of progressive participants in multiple-relationship. Thus, "hinge-blindness" describes a phenomenon that is supposed to affect the person who is on the hinge position in a multiple relationship (see last Entry: often thus e.g. the "centre" of a V-constellation consisting of three persons).

Considering my last entry, there are of course a few things I have to say about this exciting new symptom.
First of all, for example, that such a term is actually the specification of a new "symptom". And symptoms are usually attributed to identify causative agents. And since in our culture "causer" is more or less often synonymized with "origin"/ trigger", the step from there to use such a term to attribute guilt is rather tiny.
For people who have to suffer from the supposed effects of "hinge-blindness" this is an understandable as well as obvious reflex: I suffer – and as a consequence they want to designate responsibility for this suffering (AND THIS responsibility surely ISN'T MINE! ).
Which brings me to my second point of criticism: The Teflon reflex "It's someone else's fault!" usually seldom leads to a solution of the problem, but mostly deeper into a conflict – especially in groups where the number of people who are concerned is limited and all participants know each other (like in a relationship…).

Let's take a short look at the so-called "hinge blindness" and the effects it is said to have:
So there is a person who is on the "hinge" (middle) position" between two or more other partners. The main criterion of the "hinge-blindness" is supposed to be that the hinge-person, due to its own intensive feelings towards the respective wing-partners, does not realize that these wing-partners, in turn, don't feel for or aren't connected among each other with the same intensity as their corresponding attachment to the "hinge-person". As a result, this "blind spot" would become a source of misunderstanding, conflictual friction, shaming, and even abusive behavior by the hinge-person…

Hm.
That still sounds to me somehow like "When two quarrel, point to a third"… Or along the lines of: "The middle is causing trouble – therefore the centre has to fix it". And both have for me rather a gloomy taste of "the middle" being either an eternally ungrateful "hotseat", where the one would have to be pitied, who has to hold position there – or of an almost subservient-passive empowerment of that "centre-position", because by its leadership talent (or lack thereof) every weal and woe of the overall relationship would be predetermined.

On the whole, I personally perceive this interpretation of stress in a multiple relationship as a failure of the middle due to it's attributed subjective bias as extremely Oligoamory-alienating mindset. Indeed, I also think of it largely as quite outside the realm of Polyamory.
Why do we just keep letting monogamous influences slip in through the back door into our multiple relationships?
Now what? Hinge-blindness is a polyamorous core-phenomenon, which can only occur in multiple relationships – how can it be a "monogamous influence"?
Simply because – if we indulge in such a way of thinking – it is still about a purely dualistic separating reality¹ of "correct" or "mistaken", "being right" or "being wrong". Instead of understanding a multiple relationship as a multifaceted entity – and the great opportunity that comes with it – we continue to play the old game of two-sidedness, where in the end there can only be one winning position and one losing side.
I can't really be reproachful at this point. We all still exist in a world that is largely shaped by monogamy – and almost everything that has been and continues to be is shaped by this philosophy. Already in Entry 8 ("Check, dear mate!") I point out that it needs quite a lot of effort to change from the "single player mode" to a "group status" – and that not least our mentality, inner attitude and way of thinking would have to take quite a turn in order to change from the "lone wolf" to a team player.

However, what seems particularly disturbing to me about the basic principle behind the symptom of "hinge blindness" is that it still conceives multiple relationships as a kind of collage of parallel individual relationships of the purported "middle"/"hinge". And as long as we look at our intimate relationships with this kind of energy, there will never be a merging of that which we actually would like to experience it united.
Oops! Was I thinking as unreflectively as the poor blind hinge there?
No, I don't think so – nor do I think that most or at least many hinges are "blind".
Rather, I believe that what is labeled "hinge blindness" merely characterizes a certain amount of very human, blue-eyed wishful thinking on the part of the "hinges". And in an almost old-fashioned nostalgic form à la "I would like my friends to be good friends with each other as well…". A wish for harmony that many of us already know from our childhood and school days – a wish for unanimity, like-mindedness and widespread consistency – and thus, of course, also for belonging and inclusion.
But that didn't really work "back then" – and we can't "make it work" today either – no matter how much we may be an empowered hinge, infatuated with our wings and adored by them.
In fact, nothing has changed: If Alex and Ulli didn't get along with each other back then, then you had to forget about inviting them together to your 13th birthday, just as you can forget about inviting Robin and Toni to your 38th birthday today, if they don't like each other.
In those days, even promises and bribes would not have achieved anything, and today…
…oh dear: Today Robin and Toni would be both our wing partners, joined with us in a multiple relationship!
And if we were there now, blind in the middle, may I be allowed to ask the delicate question of how it would have been possible to be partnered in love and passion with these two people who clearly dislike each other so much that they cannot even endure a few hours together at a celebration…?
Have we perhaps been playing Pokémon-Poly² after all, and aiming more for a diversified portfolio of loved ones to satisfy our individual needs – thereby establishing more of a parallel relationship construct rather than a holistic joined relationship?
Then it will be difficult now, because for the fact that Robin and Toni may still start to like each other despite all their parallelism, we can do nothing at all. Strictly speaking: The blind hinge can't do anything, because their mutual sympathy or antipathy is first and foremost a matter between Robin and Toni.

"Blind" by the way, is not what I, Oligotropos, would call the hinge in that case because of its purpose-optimistic expectations of harmony.
But very well "blind" with regard to the choice of the basic relationship model, which now reveals itself at best as an "open-relationship network" rather than as Polyamory.
For even Polyamory – so says the first sentence on the German Wikipedia in the corresponding article – "…denotes a form of love life in which a person loves several partners and maintains a loving relationship with each of them, this fact being known to all involved and lived by consensual agreement.".
Oho: consensual! "Consensual" – here again Wiktionary helps us out – means "with permission, with consensus, without coercion; allowed without objecting or resisting; existing, or made, by the mutual consent of two or more parties". So, in our case, this refers to the shared relationship, in which all participants would be aware of this fact ( that is, to have a share in that multiple relationship).

Based on this, the question of who or what is "blind" arises for me in a new light. Since in my opinion, it now would be rather necessary to ask what the status of this "consensuality" would be.
Is it possibly actually due to the "hinge" which, however, has blinded its "wing(wo)men" with a high degree of non-transparency on its part by acting in its own interests in an inscrutable manner? So that these wing people were not even able to give informed consent with full knowledge regarding the overall relationship? Unfortunately, it's not at all uncommon that other existing or budding relationships are declared as "pretty best friends", "very good acquaintances", or "…oh, it's such an on/off thing…"; vain smokescreens that all too easily convey that there are "actually" no other, full-fledged wing partnerships (except the one where you're spending time right now) […and again, welcome to mononormative thinking!].
Or was the centre truly blind after all – but quite differently than the "hinge-blindness" wants to classify it. Precisely by not paying careful attention to the all-important "consent" in Polyamory. Because the most famous (non-)agreement phrase in the world is, as is well known, "Do whatever you want…!" (Variant: "It's your decision…"). An already blue-eyed purpose-optimistic hinge could probabely turn this somewhat vaguely stated go-sit-on-a-tack-expression with a bit of exaggerated self-conviction into actually granted agreement. And from then on be reassured in its own mind: "Sorted things out? Yep! Been there, done that!".
By the way, in both variants, both "hinge/centre" and "wing/side" do not come off particularly well. And this is unfortunately due to our human weakness to interpret statements of other persons in our own sense in such a way that (hopefully) further inquiries are unnecessary and we therefore consider the "state of affairs" to be satisfactorily settled.
What always blows up in our faces in those situations where suddenly the ground is pulled out from under our feet with sentences like "I have never said that…"? Yeah, well. But how it was REALLY MEANT in the actual situation, THAT has unfortunately never been expressed either, it was always just insinuated with a lot of vagueness, a minimal touch of bad conscience and a lot of "break-a-leg"-mentality.
By which in my opinion also the last splendour of the symptom "hinge-blindness" has peeled off, in that it is no longer a multiple-relationship buzzword, but in essence only a somewhat stale, well-known everyday phenomenon, in which we humans, when it comes to commitment, very often only too gladly want to avoid the pending concreteness.

Conclusion:
There is no such thing as characteristic "hinge blindness" as far as I am concerned. There is only that widespread human blindness by which, when certain consequences of one's own actions seem too difficult to bear, one switches to an apparently easier-to-bear variant of reality, which one first tries to persuade oneself of, and a short time later all those who might be affected by it.
This does not require multiple relationships or even polyamory as a setting – it is entirely a phenomenon of one's own self-conception.
In my previous entry, I also explained why the assignment of the positions of "centre" ("hinge") and "side" ("wing") are by no means as clear as they may superficially appear. From this, too, it is evident to me that in case of suspicion of "blindness" in a multiple-relationship network, it would have to be fathomed very precisely a) what this blind spot would consist of and b) who or how many persons would actually be affected by it.
For the purpose of "blame shifting" I consider the whole symptom as inappropriate since, as is well known, when you point your finger at someone, four fingers immediately point back at you…

Regardless, in this entry today I have mentioned three of the most fundamental values of Polyamory as well as Oligoamory. These are: Consensuality, Transparency and Commitment.
My Entry 44, in which I talk about why it is truly important for the success of multiple relationships to love one's friends or partners as whole people and personalities, is based on these three values, as they are the indispensable ingredients for the most important good in all our intimate relationships: Trust.
We can immediately see why if we turn the three terms into their antonyms (= opposite meanings): Ambiguity, obfuscation and incoherence. Once these three apocalyptic horsemen have begun to roam around in our relationships, no one will feel really comfortable in there anymore. Even more: In this way, a "mutual we" will never be established, which is exactly the difference between the above-mentioned "parallel relationship construct" and a real holistic, joined relationship.
It will always become Poly- and Oligoamory (only) when all parties involved are really completely integrated, with all their knowledge, full will and whole heart.
This is not an unfailing insurance against the kind of blindness that can befall us all from time to time. But it is one of the best safeguards for such an eventuality, that it does not immediately drag all those involved into the abyss, and that there are enough friendly eyes and hands to master a difficult stretch of the journey together.


¹ The description "reality of separation" for the predominantly everyday-unconscious way in which we lead our lives originates from the author Daniel Hess, whose thoughts (and counter-concepts) on this subject can be found in detail in Entry 26.
² "Pokémon-Poly" – and what it means – is described by me in Entry 2.

Thanks to Kiraan p on Unsplash for the photo!